Xfinity Mobile Scams: Protect Yourself from
These Phishing Attempts
Xfinity has become a household name for millions of customers across the United States. Like any large service provider, it has unfortunately been the target of scams and fraudulent activities like phishing emails, fake customer service calls, or fraudulent websites claiming to be affiliated with Xfinity. Here's a real example of a clone phishing email or a fake email designed to make you think it's a legitimate email from Xfinity: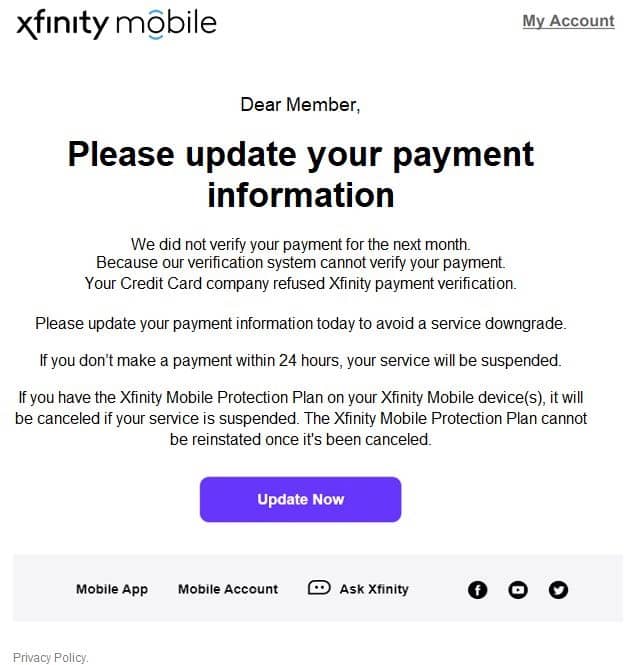 A lot of the signs of scam or phishing emails are here. There are misspellings, missing punctuations, a sense of urgency, and of course a sly button that will likely take you to a payment portal or page that will ask for your personal information. 
It is important to know that according to their website, Comcast will never ask you for your password over the phone, chat, or email. They also will never ask for billing or payment information via email. As a precaution, it's better not to click on any links, especially with these kinds of emails. If you're a subscriber, it's always better to visit the official website and access your account from there. 
Common Xfinity Scam Techniques
There are individuals out there who may attempt to impersonate Xfinity representatives or create fake websites in order to gain access to your personal information. To help you recognize and stay safe from these potential threats, here are a few ways to identify them:
Fake payment requests.

 Xfinity won't ask for payment through specific methods like gift cards, wire transfers, or digital payment platforms. Always check your account balance and make payments directly through the official Xfinity website or app.

Be cautious with personal information.

 Xfinity representatives will never ask for your username and password over the phone. Confirm the legitimacy of any interaction with an authorized representative before sharing personal information.

Verify secure connections.

 When making payments through links in emails, ensure the webpage is secure. Click on the lock symbol in the address bar to confirm the connection's security.

Beware of deceptive emails and calls.

 Bad actors may try to trick you by impersonating Xfinity representatives or using similar phone numbers. Check for spelling errors, low-resolution images, or inconsistencies in emails and delete suspicious communications.

Exercise caution with email attachments and links.

 Don't open unsolicited email attachments or click on links, as they may contain malicious programs that could harm your data.

Watch out for misleading websites.

 Be wary of websites with similar addresses to Xfinity, especially those with typos or misspellings. Always double-check the web address, and ensure you're on the correct website, which is xfinity.com.
Another type of Xfinity scam is this of a Detroit man who used Google search to find Xfinity's website. He ended up clicking on an ad that was meant to look similar to Xfinity's website, only with a slight misspelling. 
Scammers will use misspelled email addresses that at first glance look the same as a legitimate service provider's domain. And a lot of these spoofed websites are connected to scam and phishing emails. If you look at the email header, most of those emails come from spoofed email addresses that are similar to these: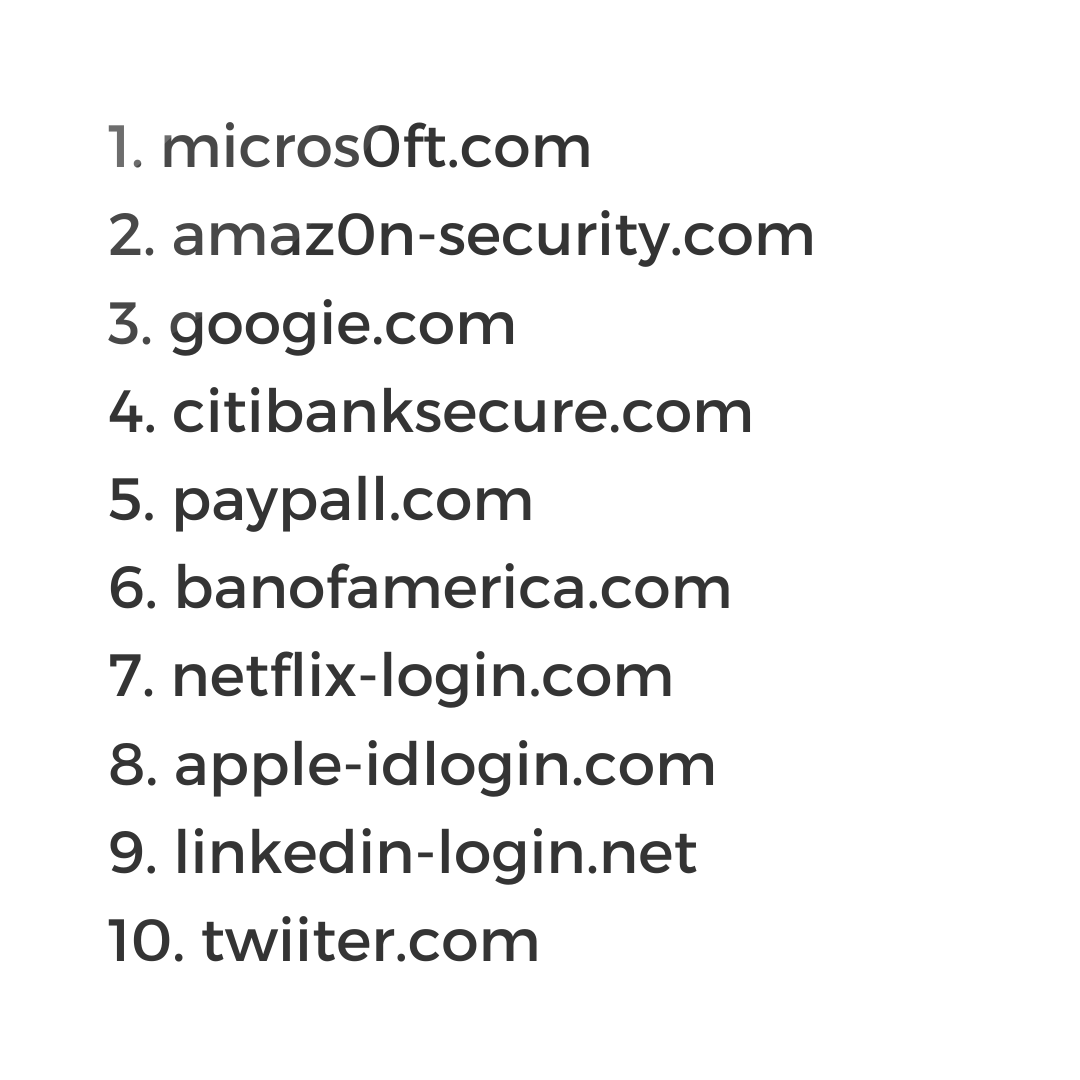 Think of a family member who would easily mistaken these domains for the real thing. We understand that losing money or getting a tainted reputation due to identity theft can take a toll on both your emotions and your finances.  You can learn more about email spoofing here. 
Secure Your Inbox with Sangu Mail
At Sangu Mail, we understand the frustration and distress that comes with falling prey to email scams. In today's digital world, these scams have become more sophisticated and widespread than ever before. That's where we come in. Our team of experts specializes in email analysis, which means we dig deep into suspicious emails and find out if they lead to a phishing or scam website. Our goal is to provide you with the real-time support and guidance you need to fight back against email scams.
Sangu Mail goes beyond just investigating. Our dedicated team is here to assist you every step of the way. We'll also guide you through the process of reporting the scam to the relevant authorities and taking appropriate legal measures. 
We believe in empowering individuals by educating them about the common tactics employed by scammers, so you can better protect yourself in the future.